Porsche Car Connect App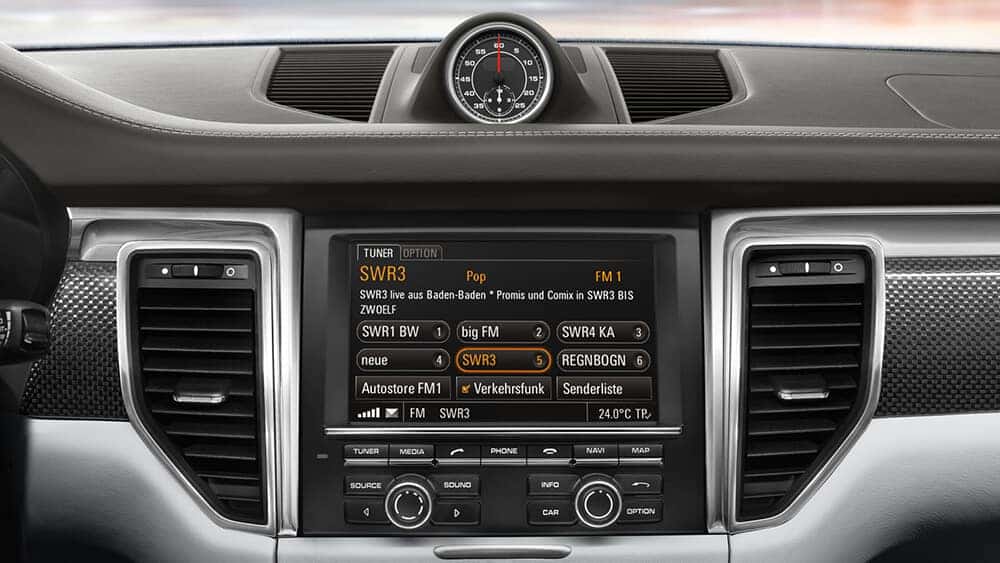 Whether you drive a Porsche Macan or Porsche Cayenne, the Porsche Car Connect App for your smartphone provides Portsmouth drivers with the versatility and utility to stay connected to your Porsche model wherever, whenever. Find out how it works and what it can do for your Manchester drive, then stop by Porsche Stratham to see how it works in person!
The Porsche Car Connect App: How It Works
Porsche Car Connect is an app for your smartphone. It gives you immediate access to relevant driver data such as your current mileage, average consumption, vehicle location, or the remaining charge time for e-model hybrids. The app also serves as a remote control. For example, for locking the vehicle or for activating the stationary heating system and stationary air conditioning.
Before using the Car Connect App for the first time, you will have to register it via a separate internet portal, the Car Connect portal. Activating it via the Porsche Connect portal is not possible because the Car Connect service is a service provided by our partner, Vodaphone. You can get to registration on Porsche.com/connect and from there via the link to Porsche Car Connect. Once on Car Connect portal, first choose your country. For example, Germany. Then, select "New Customer" and first enter your email address, your mobile number, and a personal password. You will also have to agree to Vodaphone's terms of use. You will then receive an email confirming your email address. In addition for your own security, you will be asked to verify your telephone number. You will then receive a personal confirmation code by text message. You can now add a new vehicle.
Firstly, enter your own vehicle type and the country of registration along with your vehicle registration number. This can be amended any time at a later date. The next step is to record your address and contact details. You can also change your country of service if, for example, you wish to use your vehicle in a country other than the country of registration. Further, driver details and security questions make your account even more secure. The Car Connect App enables all these security measures to protect your vehicle from unauthorized access. Once you have agreed to Vodaphone's contractual terms, you will receive a vehicle installation code. Please give this to your Porsche center. It must be activated via the car connect as part of a garage appointment. Once it has been activated by the Porsche Center, download the Car Connect App from the app stores of either Google or Apple free of charge. The Car Connect portal will display an app activation code which you should key into the Car Connect App. You can use the Car Connect App once the registration has been successfully completed.
Use the homepage of the app to access to all-important information regarding your Porsche. From the "My Vehicle" menu, go to the status submenu where you can see, for example, whether the ignition is on, your mileage, the fuel level, and the remaining mileage. The app even enables you to recall tire pressures or service intervals with ease. Use the remote control menu entry to show you whether the doors and windows are closed and whether the vehicle has been secured safely. You can also lock the vehicle in this way.
Use the trip menu to lay out the trip data from your last journey. For instance, how long the journey took, the distance covered, the fuel consumption, as well as the average speed. The vehicle location menu shows you where your vehicle is. If you so wish, you can just navigate towards your vehicle. Moreover, you can activate the horn or car warning lights in order to find your Porsche quickly. For example, in confusing car parks.
Use the security menu to make a quick emergency call in the event of an accident. Moreover, in the event of a breakdown, all relevant vehicle data will be transmitted to Porsche assistance. Using the security menu also activated a so-called geo-fence and a speed fence. Geo fence establishes a radius within which your Porsche is permitted to move. If your Porsche leaves this radius or enters into it, you will receive notification via the announcements menu. Use speed fence to set a maximum speed at which your Porsche can travel. If your vehicle exceeds or drops below this speed, you will receive similar notification via the announcements menu. Owners of e-hybrid vehicles also have e-mobility functions and climate control at their disposal.
Use the e-mobility menu to retrieve hybrid-specific information such as the electric range or the remaining charge time. Moreover, the app is handy for controlling the charging process and so you have the possibility of setting up departure times on up to three charging times and can thereby determine when your Porsche should be charged and when it should be made ready to leave. Use the climate control function via the app to activate your climate control or stationary air conditioning at any time. Here, you can also set up you departure timers to coincide with your Porsche, reaching the perfect temperature.
Learn More at Porsche Stratham
For more information on Porsche Connect, stop by Porsche Stratham and hear it from the experts! Be sure to contact us with any questions.